Choosing the Right Conversational AI Platform
How to Best Determine Which Conversational AI Platform is Right for Your Business
With so many solutions in the market, it can be difficult to narrow down your options when deciding which conversational AI platform is best suited to meet your specific business needs.
We believe this report from Gartner® helps simplify the selection process by highlighting the most important areas to focus on and explains the different approaches and categories that most conversational AI platforms fall into.
By ensuring that your chosen platform offers the necessary capabilities, you can reduce development time, improve application flow quality, and cut down on operating and maintenance costs.

Gartner Research Analysis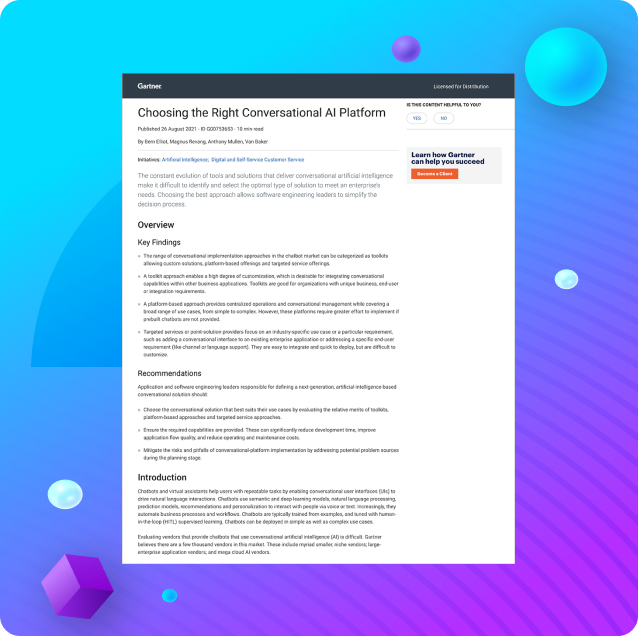 Gartner provides insights and recommendations to help application and software leaders responsible for choosing and defining the right conversational AI solution for their business:
How to find the right solution that will suit specific use cases
Ways to ensure the required capabilities are provided to ensure success
How to mitigate the risks and pitfalls of implementation
How to address potential problem sources during the planning stage
Download the Report
Gartner, Choosing the Right Conversational AI Platform, Bern Elliot, Magnus Revang, Refreshed 6 December 2022, Published 26 August 2021. GARTNER is a registered trademark and service mark of Gartner, Inc. and/or its affiliates in the U.S. and internationally and is used herein with permission. All rights reserved.